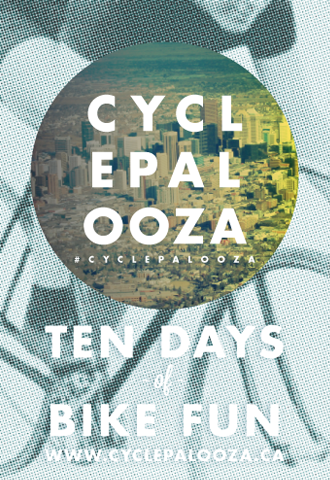 Cyclepalooza is a community-driven, do-it-yourself bicycle festival held for ten days every June in Calgary. With a variety of bike-related events, Cyclepalooza brings together people of all ages, backgrounds, and skill levels through cycling for fun and transportation.
This is the second installment of Cyclepalooza, which is modelled after successful events in Portland and Vancouver. In 2011, 59 events drew several hundred participants. Help make Cyclepalooza 2012 bigger and better!
Anyone can (and should!) contribute to Cyclepalooza by organizing an event and adding it to the calendar at cyclepalooza.ca. Check out the ride guide for ideas and more information.
Two official events are scheduled for June 23 and July 1, the opening and closing parties, respectively.  The opening party is co-organized with Sled Island; both will happen at the AREA in Inglewood.
If you'd like to keep updated or even want to help out, see the contact info here. (Like us on facebook, follow us on Twitter.)
Date:
Saturday, June 23, 2012 (All day)
to
Monday, July 2, 2012 (All day)